Sinotruk Howo 4000liters automatic asphalt sprayer truck Description:
---
Sinotruk Howo 4000liters automatic asphalt sprayer truck is equipment that is widely used in road construction. It is an intelligent high-tech product that can spread emulsified asphalt, fluxed asphalt, oil refining asphalt, heated asphalt, heavy traffic paving asphalt, and high viscosity modified asphalt. Asphalt distributor is basically made up of chassis, asphalt tank, asphalt pump, spray system, heat conduction oil heating system, hydraulic system, electric control system, distribution control system, and rinsing series. And the distribution system has two main types: hand-controlled and computer-controlled.
Advantage:
---
Chassis:
HOWO truck chassis, perfect performance
SINO series engine, super powerful; reliable performance, no overhaul within 500,000 km.
Spray width can be adjusted flexibly from 2m to 6m.
Easy operation and easy maintenance.
Asphalt distributor System:
Automatic asphalt distributor truck boasts three layers. It can adjust the spray amount according to its operational speed.
The whole asphalt spraying process can be finished in the cab.
Each nozzle is controlled by a separate computer. The spray width can be adjusted at random.
The control procedure is equipped with two control systems, cab, and post-operational platform to ensure the reliability of asphalt spray.
A Computer control system adopts a modular design for lower accident rates and maintenance.
A temperature of asphalt in the tank is kept below or equal to two degrees per hour
The distributor is equipped with an automatic blowing device to shift the asphalt outside to the tank
Specification:
---
Sinotruk Howo 4000liters automatic asphalt sprayer truck Philippines

Gross weight(kg):

Payload(Kg)

Curb weight(Kg)

Overall size(mm)

7360

2080

5155

6300×2080×2400

Truck model

Brand name

Manufacturer

Steering Wheel

SZD5047GLQ

Yandi

Dongzheng Special Co.,Ltd.

Left hand drive

Chassis model

Brand name

Manufacture

Drive type

ZZ1047

Sinotruck howo

Sinotruck Motor Group Ltd.

4X2

Wheelbase

Cab

Tire

3360 mm

Single cab, 2 passengers allowed

8.25R16(Radial tire)

Transmission

Steering device

Axle Load

A/C

6 shaft

Power steering

2.7/7.2

Available

Engine Model

Engine Manufacture

Emission Standard/Petrol

Displacement

YN4102QBZL

Yunnei Motor

Euro II/V/Diesel

7360/85(ml/kw)

Engine Type

Engine Max Torque

direct injection four-cylinder, water-cooled

290 N.M

Van Truck Structure Parameters

Tanker material

Asphalt pump

Thickness(mm)

Color

Q304 Stainless steel

QGB450 (450L/min)

5mm

Silver & Yellow

Hydraulic system

heating method

Manual reversing valve, asphalt pump hydraulic drive motor, hydraulic pump adopts side power take-off or engine rear power
take-off

Automatic heating of heat transfer oil + burner

Spreading width

Spreading amount range

Generator

Spraying medium:

4m

0.2-3L/㎡

7KW

emulsified asphalt, hot asphalt, modified asphalt, etc.
Asphalt distributor truck Working parameter:
---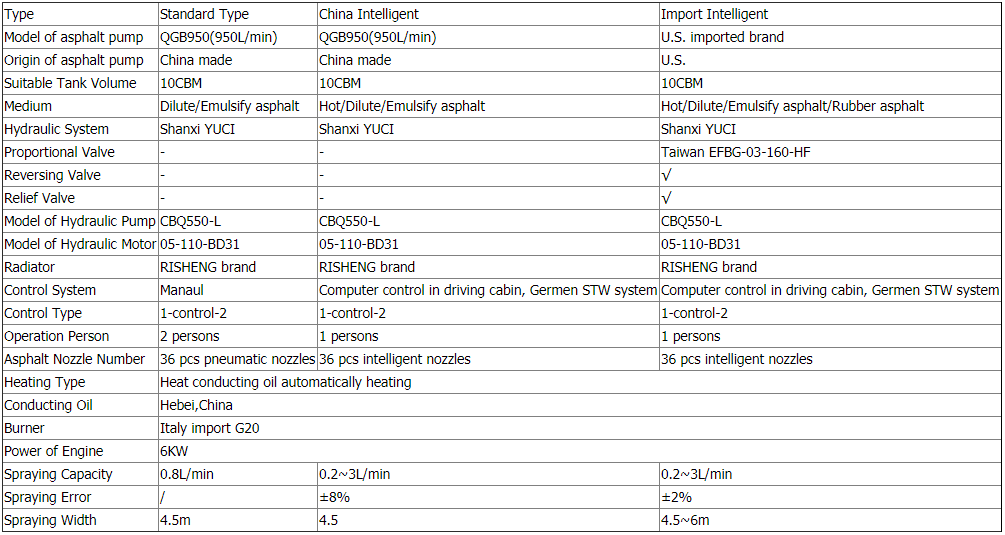 ISUZU Asphalt delivery truck details:
---
ISUZU Asphalt delivery truck optional style:
---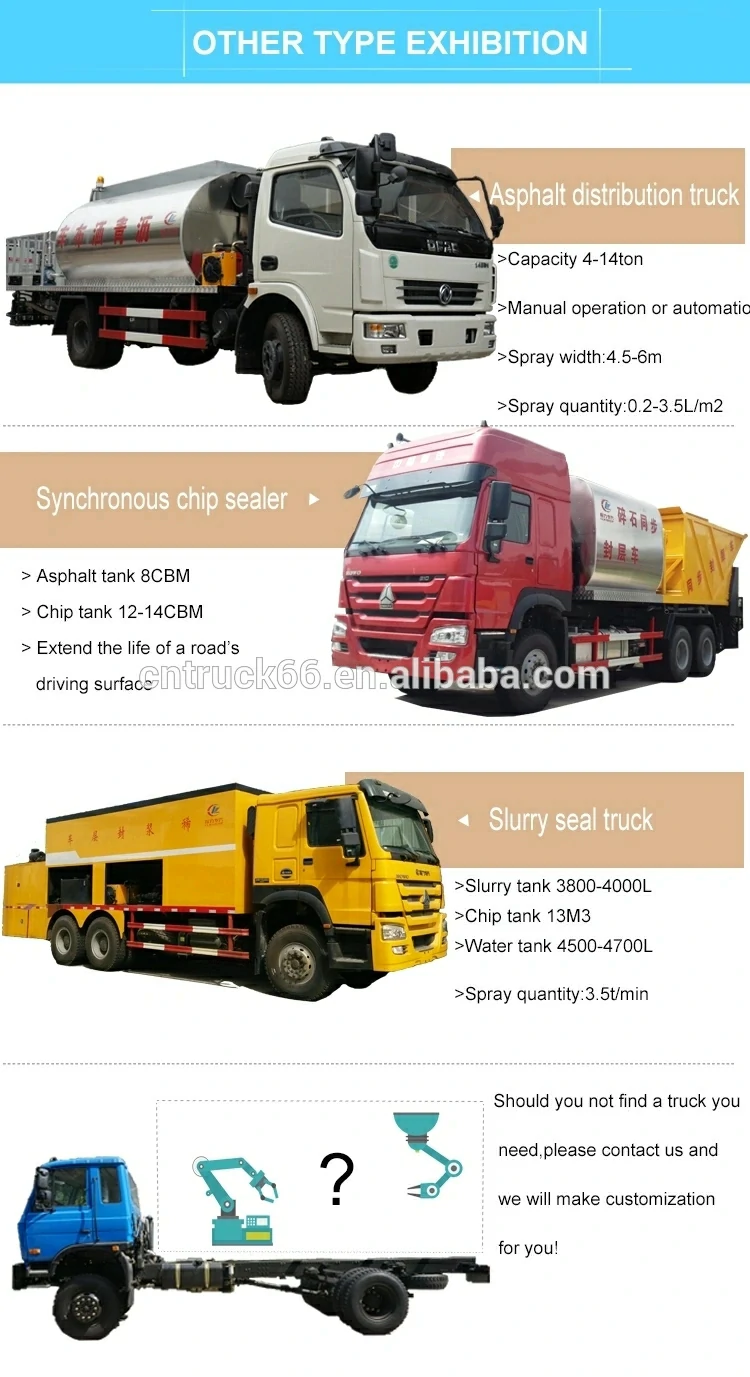 Asphalt distributor machine Tools and instructions:
---

Factory Advantage:
---
17 years of design and export experience.
100% customized trucks.
Quick delivery guarantee.

Documents:
---
Serving more than 80 countries and regions.
Professional guidance on import documents.
CO, FORM E, FORM P, pre-implantation inspection
construction sand rock transport truck shipping:
---
Maximize save your sea freight.
Professional guidance on your importing documents.
Safe, fast and timely