Sinotruk Howo 16000liters asphalt distributor sprayer Description:
---
Sinotruk Howo 16000liters asphalt distributor sprayer is equipment that is widely used in road construction. It is an intelligent high-tech product that can spread emulsified asphalt, fluxed asphalt, oil refining asphalt, heated asphalt, heavy traffic paving asphalt, and high viscosity modified asphalt. Asphalt distributor is basically made up of chassis, asphalt tank, asphalt pump, spray system, heat conduction oil heating system, hydraulic system, electric control system, distribution control system, and rinsing series. And the distribution system has two main types: hand-controlled and computer-controlled.
Advantage:
---
Chassis:
HOWO truck chassis, perfect performance
SINO series engine, super powerful; reliable performance, no overhaul within 500,000 km.
Spray width can be adjusted flexibly from 2m to 6m.
Easy operation and easy maintenance.
Asphalt distributor System:
Automatic asphalt distributor truck boasts three layers. It can adjust the spray amount according to its operational speed.
The whole asphalt spraying process can be finished in the cab.
Each nozzle is controlled by a separate computer. The spray width can be adjusted at random.
The control procedure is equipped with two control systems, cab, and post-operational platform to ensure the reliability of asphalt spray.
A Computer control system adopts a modular design for lower accident rates and maintenance.
A temperature of asphalt in the tank is kept below or equal to two degrees per hour
The distributor is equipped with an automatic blowing device to shift the asphalt outside to the tank
Specification:
---
Item
Unit
Specification
Vehicle Model Name
Sinotruk Howo 16000liters asphalt distributor sprayer Cambodia (standard,semi-auto,automatic,Imported Automatic)
Driving type
6*4
Tank Volume
M³(L)
12-14
Overall Dimension
mm
10200×2500×3450
Gross Weight
kg
25000
Payload
kg
8870,8805
Curb Weight
kg
16000
Axle No.
3
Wheelbase
mm
4600+1350
Max speed
Km/h
95
Chassis Model
ZZ1257M4641W
Chassis Brand
HOWO
Chassis Manufacturer
CNHTC Jinan Truck Co., Ltd.
Chassis Category
Truck chassis (second)
Engine Model
WD615.92
Engine Manufacturer
China National Heavy Duty Truck Group Co.,Ltd
Displacement / Power
ml/kw
9726/192
Emission Standard
EURO II
Fuel Type
Diesel
Tire specification / Number
11.00R20 /10
Transmission
10 forward,1 reverse
Front Axle /Rear Axle
T
Cab Seats
man
3
Spray Width
mm
6
Nozzle Quantity
pcs
48
Control Method
Manual or Computer
Price
Vehicle Profile
The asphalt spray truck is a kind of professional distributing emulsified asphalt, heat diluted asphalt, asphalt, high viscosity modified asphalt, it is an intelligent automation high-tech truck. The truck sprinkles road surface with asphalt and spray the priming oil, waterproof layer, bond layer on asphalt roadbed. It consist of chassis,

Asphalt tank, asphalt pump , spray system, hot oil heating system , hydraulic system, burning system, control system, pneumatic system and operational platform. The truck is easy to operate.  Based on existing  technologies , it has new designed to make sure the sprinkling asphalt quantity , to improve construction environment for mankind.  It is reasonable and reliable to ensure the asphalt distributing uniformity, computer control is stable and reliable, vehicle technical has reached the world advanced level. It can be work under the harsh environments.

Performance Feature
1. Adjust the nozzles in any form through the computer according to the asphalt spraying quantity and working width.

2. Control the nozzles independently through the manual/automatic control, this can adjust the nozzles in any form.

3. It can control the asphalt spraying quantity not only in the cab but also on the operational platform at the end of the truck.

4. The automatic system can measure the truck speed, it also can automatically calculate the revolution of asphalt pump according to entered asphalt spraying quantity and spraying width, then adjust the pump number through the automatic system .

5. Equipped with Italy imports of diesel burner heating, with auto ignition and  temperature control.

6.. Adopt to the advanced high viscosity asphalt pump, can put outside pump in the

Tank to achieve self-absorption, also can put the asphalt out of the tank.

7.In order to make sure the vehicle reliability and extend the service life, the critical part of the vehicle adopt to the international famous parts.

8. All the heat pipe has the insulation layer to reduce heat release and avoid to scald the operator at the same time.

9. Vehicular rapid-heating system(10—15℃/h) can improve the heating efficiency and reduce the construction time to ensure the spray temperature.

10. The asphalt spray bar is designed three-stage folded structure, move the asphalt spray up and down to achieve dual or multiple spraying, move the asphalt spray left and right to achieve extend the distributing range, what' more . It can avoid obstacles efficiently.

11. The manual spraying function can make spraying through the hand nozzle,

it is quite flexible but only applicable to small and marginal construction

condition. Install the hand spray gun, open the outlet valve, open the diverting valve, open the oil return valve, use the oil return valve to adjust the

pressure of the spray gun.

12. It is designed the precipitation sewage tank in the asphalt tank, and equip with liquid level digital display and security alarms.

13.It has good thermal insulation layer, this is preservative and durable and

ensure the static heat preservation performance index ≤12℃/8h.

1414.The out package of the truck adopt to stainless

steel plate, antiseptic and durable, beautiful designed
​
Asphalt distributor truck Working parameter:
---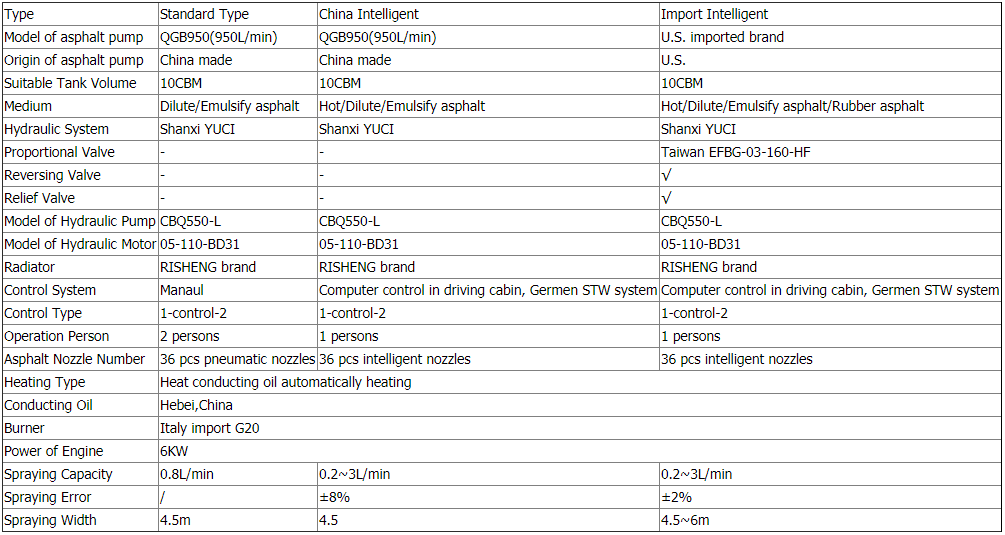 ISUZU Asphalt delivery truck details:
---
ISUZU Asphalt delivery truck optional style:
---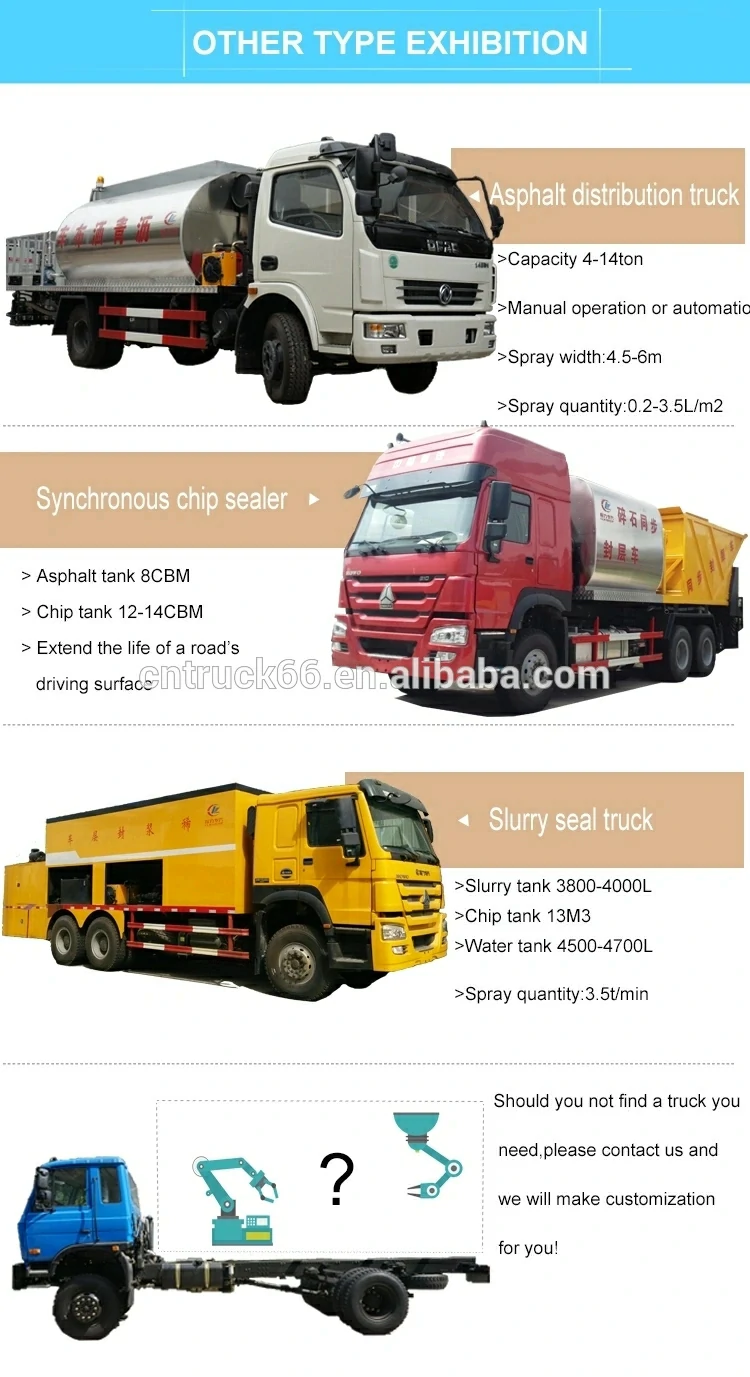 Asphalt distributor machine Tools and instructions:
---

Factory Advantage:
---
17 years of design and export experience.
100% customized trucks.
Quick delivery guarantee.

Documents:
---
Serving more than 80 countries and regions.
Professional guidance on import documents.
CO, FORM E, FORM P, pre-implantation inspection
construction sand rock transport truck shipping:
---
Maximize save your sea freight.
Professional guidance on your importing documents.
Safe, fast and timely