Sinotruk Howo 18m truck with boom lift Description:
---
Sinotruk Howo 18m truck with boom lift also called Overhead working truck, Basket crane truck, Aerial lift working truck, Manlift boom truck, Hydraulic telescopic boom truck, Truck-mounted aerial platform.
Aerial lift Man truck is ideal for maintenance of traffic lights, street lights, landscaping trees, cleaning/setting signboard and other high aerial works.
Advantage:
---
100% custom-made
8m to 45m available
Short delivery time 7~30 days
Easy operation & Easy maintenance
19 years of spare parts & Technical support
Sinotruk engine & gearbox, super-powerful, no overhaul within 500,000 km.
Working cage can be made of steel structure or reinforced fiberglass (insulated cage); can rotate 90 degrees in left and right;
4pcs outriggers and front support improve operation stability and safety;
Safety Devices are available, such as relief valves, balance valves, double-way hydraulic locks, motor emergency system etc.;
The wireless remote control system is available.
Specification:
---
Chassis brand

Sinotruk Howo 18m truck with boom lift for sale Malaysia

Chassis model

ZZ1047

Lift height customization

18 meter

Total mass (kg)

7305

Engine horsepower

120hp

Rated load mass (Kg)

7110

Engine name

YN4102QBZL

Emission Standards

Euro 3

Dimensions (MM)

7300×2000×3100

Fuel type

Diesel

Number of tires

6

Tire specifications

7.50R16

Wheelbase (MM)

3815

Maximum speed (km/h)

95

Front track

1506

Rear track

1530

Dedicated configuration

1. Maximum working height: 18 meters, maximum working range: 7.5 meters

2. Adopting the international leading Jiangling high-end chassis and installing three-section folding arm hydraulic lifting special device

3. Environmental protection items to the national motor vehicle fifth stage emission standards (country V)

4. Adopting domestic and imported reversing valve and hydraulic cylinder, the commutation is stable, the operation is flexible and convenient, the hydraulic system realizes the interlocking of the upper and lower vehicles, the overload protection, and the cylinder is safely locked.

5. Turntable, work bucket double station operation

6. The boom has a compact structure, good maneuverability and large working range.

7. The legs and the working arm are interlocked, safe and reliable, preventing misoperation

8.H-type legs, large span, good stability, the legs can be independently telescopic, and can be linked, equipped with a leg flashing light, used for the leg profile during operation, emitting a light alarm signal

9. Waterproof switch has limit function, dangerous working condition alarm, superior safety performance

10. Optional 1 ton hook (hook telescopic 800-1000mm), hook maximum lifting mass 500kg

11. Optional automatic protection system to prevent misoperation

12. Optional emergency power source, ignition and flameout device

13. Optional electronic control system for electro-hydraulic proportional speed control, stepless speed regulation, smooth operation / electronic control system optional ground wireless remote control operating system

14. Optional 10, 11, 13, 14, 16 , 18, 20, 22, 24meters series of aerial work.
Folding arm aerial platform truck Working parameter:
---
Manlift boom truck New craft:
---
Aerial lift working truck Bodywork details:
---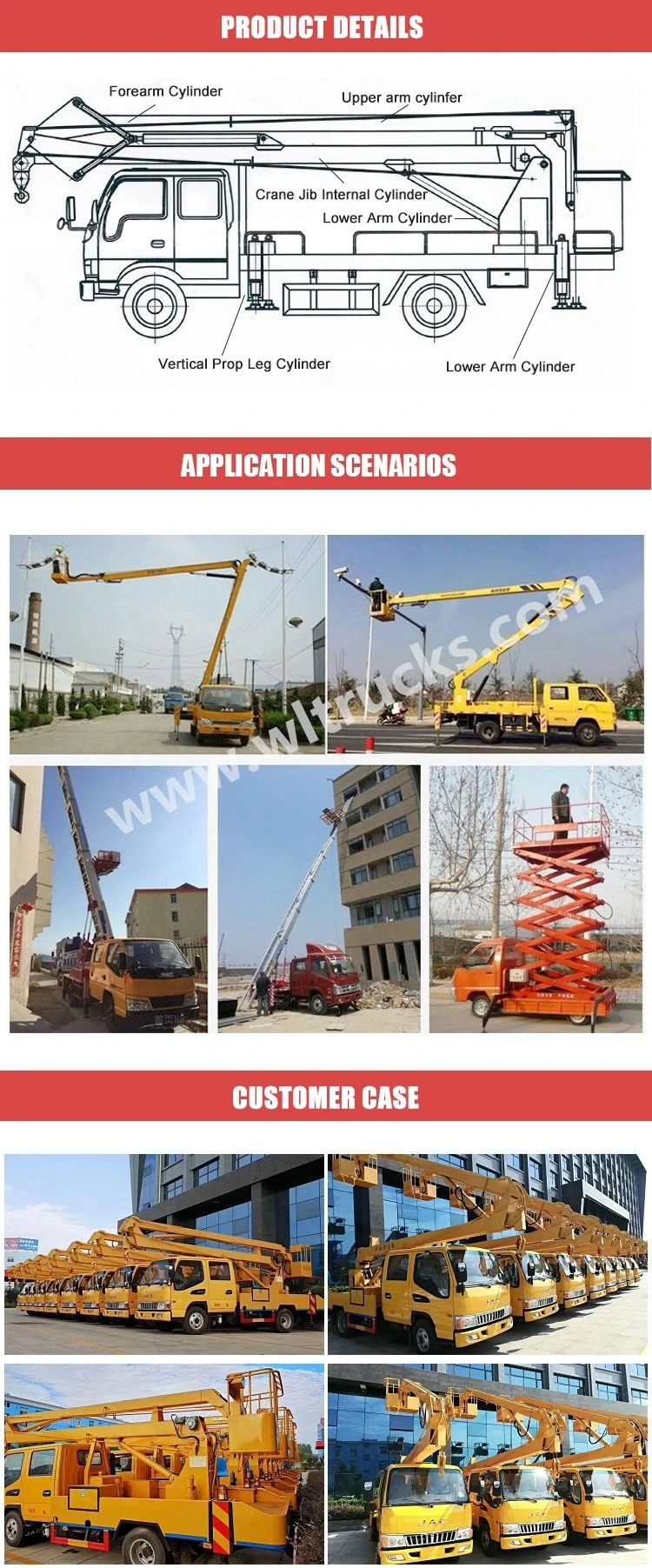 ISUZU Aerial platform truck features:
---
The truck adopts the international leading Qingling high-end chassis and is equipped with a special device for straight arm hydraulic lifting

Three operating modes: wireless + wired + handle, more convenient to use, adapt to various working conditions, computer intelligent control, automatic limit range, automatic alarm device for dangerous working conditions, more safe and reliable

The work bucket and the rear of the entrance and exit, easy to enter and exit, good passability

Fully telescopic working arm, high operating efficiency, wide operating range

Octagonal cross section of working arm, good love, made of high strength material, good reliability

There is an emergency power source for more protection, and a 220V power socket is provided when getting off the car, which can easily lead the 220V power source to work at a high place.

Remote control system of engine speed, easy to operate and high efficiency

The support legs can be operated on both sides of the cab, which is convenient and efficient.

The outrigger is H-shaped, the outrigger span is large, and the stability is good. It can be operated at the same time or separately, adapting to various ground conditions

360-degree turntable rotation, wide operating range, improve efficiency.
Factory Advantage:
---
19 years of design and export experience.
100% customized trucks.
Quick delivery guarantee.
Documents:
---
Serving more than 80 countries and regions.
Professional guidance on import documents.
CO, FORM E, FORM P, pre-implantation inspection