Sinotruk Howo 45-50meters aerial work platform truck Description:
---
Sinotruk Howo 45-50meters aerial work platform truck also called Overhead working truck, Basket crane truck, Aerial lift working truck, Manlift boom truck, Hydraulic telescopic boom truck, Truck-mounted aerial platform.
Aerial lift Man truck is ideal for maintenance of traffic lights, street lights, landscaping trees, cleaning/setting signboard and other high aerial works.
Advantage:
---
100% custom-made
8m to 45m available
Short delivery time 7~30 days
Easy operation & Easy maintenance
19 years of spare parts & Technical support
Sinotruk engine & gearbox, super-powerful, no overhaul within 500,000 km.
Working cage can be made of steel structure or reinforced fiberglass (insulated cage); can rotate 90 degrees in left and right;
4pcs outriggers and front support improve operation stability and safety;
Safety Devices are available, such as relief valves, balance valves, double-way hydraulic locks, motor emergency system etc.;
The wireless remote control system is available.
Specification:
---
Sinotruk Howo 45-50meters aerial work platform truck Mexico
Total mass (kg)
16750
Dimensions (mm)
8200*2500*3900
Curb weight (kg)
16550
Cargo compartment size (mm)
XX
The number of passengers in the cab (person)
2,3
Maximum load of saddle (kg)
Axle load (kg)
500/10000
Maximum speed (km/h)
99
Wheelbase (mm)
4500
Tire specifications
1000R20
Emission standard
Euro VI
engine model
Engine manufacturer
engine capacity
Engine power
B6.2NS6B230
Cummins
6200
169
Configuration
1. Telescopic straight arm structure,45 meters working arm is7 sections telescopic, the turntable can be operated, and can also be operated by remote control, can rotate 360 degrees, four hydraulic outriggers, the maximum load -bearing work bucket 200 kg, pattern anti-skid walking platform.

2. The working bucket adopts mechanical self-balancing design, and its function is that the working bucket is always in a balanced state when working. The maximum extension angle of the forearm is up to 80°, so that it can be adjusted to the best working position.

3. Computer control, automatic limit, dangerous work alarm, excellent safety performance. There is a display when getting off the car, which displays the working conditions of the whole car in real time.

4. The hexagonal working arm increases the strength, synchronously expands and contracts, the structure is compact, the working efficiency is high, and the working range is large. The telescopic oil cylinder is installed externally, and the chain telescopic mechanism is easier to observe the fault point and convenient for maintenance.

5. The outrigger adopts front V and rear H-shaped structure, which has larger bearing surface and higher stability; it can prevent the car beam from being deformed or broken. The outriggers are individually adjustable, and each outrigger can be adjusted separately according to the working ground environment. Even if the ground is uneven, the whole vehicle can be adjusted to a stable state.

6. The four vertical outrigger cylinders and the upper arm, lower arm, and forearm cylinders are equipped with two-way hydraulic locks. The function is to lock the cylinders in place after reaching the required position to prevent accidents. The working arm is equipped with a two-way balance valve to make the working arm run more smoothly.

7. The vehicle is equipped with two-way hydraulic lock, two-way lock balance valve, hydraulic flow valve, hydraulic cylinder, and engine start-stop emergency pump. Stable commutation, flexible and convenient operation; outriggers and working arms are interlocked, safe and reliable, to prevent misoperation.

outrigger

Mode:Front V rear H shape, individually adjustable Quantity: 4 pieces

Control: individually adjustable or linked

Working bucket parameters

Folded size 650*1800*1100 Expanded size 1100*3100*1100

Rated load 200kg

main operation

Operating position: turntable, wireless remote control operation.

Control form: ZYK bus control system, electro-hydraulic proportional control system, realize stepless speed regulation

Hoarding and walking platform
Stainless steel fence and non-slip walking platform
Boom structure
7-section (45m) boom, synchronous telescoping
Rotary device
Two-way 360-degree continuous rotation, 360-degree rotation of the hanging basket
Folding arm aerial platform truck Working parameter:
---
Manlift boom truck New craft:
---
Aerial lift working truck Bodywork details:
---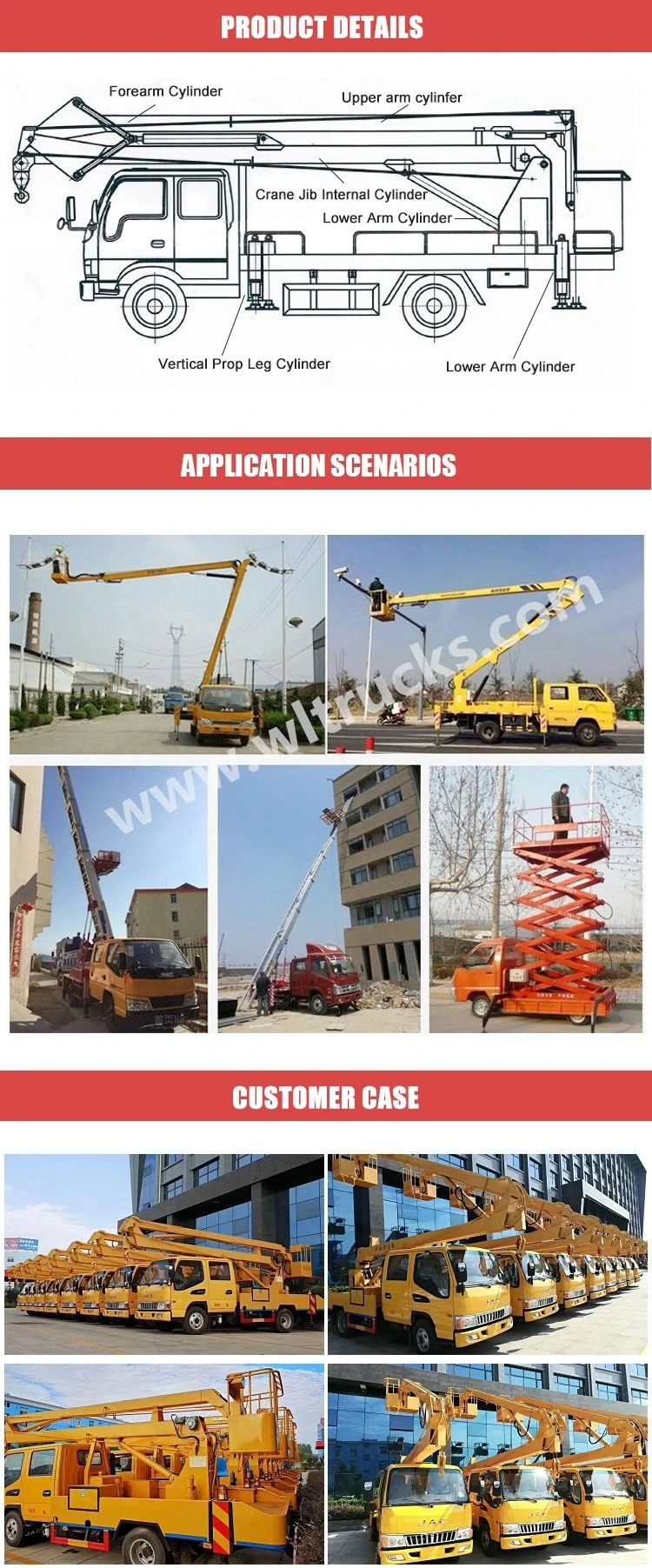 ISUZU Aerial platform truck features:
---
The truck adopts the international leading Qingling high-end chassis and is equipped with a special device for straight arm hydraulic lifting

Three operating modes: wireless + wired + handle, more convenient to use, adapt to various working conditions, computer intelligent control, automatic limit range, automatic alarm device for dangerous working conditions, more safe and reliable

The work bucket and the rear of the entrance and exit, easy to enter and exit, good passability

Fully telescopic working arm, high operating efficiency, wide operating range

Octagonal cross section of working arm, good love, made of high strength material, good reliability

There is an emergency power source for more protection, and a 220V power socket is provided when getting off the car, which can easily lead the 220V power source to work at a high place.

Remote control system of engine speed, easy to operate and high efficiency

The support legs can be operated on both sides of the cab, which is convenient and efficient.

The outrigger is H-shaped, the outrigger span is large, and the stability is good. It can be operated at the same time or separately, adapting to various ground conditions

360-degree turntable rotation, wide operating range, improve efficiency.
Factory Advantage:
---
19 years of design and export experience.
100% customized trucks.
Quick delivery guarantee.
Documents:
---
Serving more than 80 countries and regions.
Professional guidance on import documents.
CO, FORM E, FORM P, pre-implantation inspection