Sinotruk Howo 14m3 asphalt patch truck Description:
---
Sinotruk Howo 14m3 asphalt patch truck is equipment that is widely used in road construction. It is an intelligent high-tech product that can spread emulsified asphalt, fluxed asphalt, oil refining asphalt, heated asphalt, heavy traffic paving asphalt, and high viscosity modified asphalt. Asphalt distributor is basically made up of chassis, asphalt tank, asphalt pump, spray system, heat conduction oil heating system, hydraulic system, electric control system, distribution control system, and rinsing series. And the distribution system has two main types: hand-controlled and computer-controlled.
Advantage:
---
Chassis:
HOWO truck chassis, perfect performance
SINO series engine, super powerful; reliable performance, no overhaul within 500,000 km.
Spray width can be adjusted flexibly from 2m to 6m.
Easy operation and easy maintenance.
Asphalt distributor System:
Automatic asphalt distributor truck boasts three layers. It can adjust the spray amount according to its operational speed.
The whole asphalt spraying process can be finished in the cab.
Each nozzle is controlled by a separate computer. The spray width can be adjusted at random.
The control procedure is equipped with two control systems, cab, and post-operational platform to ensure the reliability of asphalt spray.
A Computer control system adopts a modular design for lower accident rates and maintenance.
A temperature of asphalt in the tank is kept below or equal to two degrees per hour
The distributor is equipped with an automatic blowing device to shift the asphalt outside to the tank
Specification:
---
Sinotruk Howo 14m3 asphalt patch truck Ghana
Chassis Model
ZZ1257S4641W(Left/ Right Hand Driving Type Optional)
Engine
Model: WD615.47, Euro 2, 371HP
6-cylinder in-line with water cooling, turbo-charging and intercooling
Displacement: 9.726 L
Clutch
Single-plate dry diaphragm spring clutch,diameter430mm,hydraulically operating with air assistance
Gearbox
SINOTRUK BRAND, manual operation, HW19710, 10 forward and 2 reverse
Front Axles
9000kg with drum brake system(or HF7,7000kg with drum brake system)
Rear Axles
HC16, 2X16000kg, double stage reduction (central+ hub), cast axle housing, ratio: 4.42, 4.8, 5.73, OR
Suspension
Front suspension: 9 pcs (or 3 pcs) leaf springs with hydraulic telescopic double-action shock absorbers and stabilizer
Rear suspension: 12 pcs (or 5pcs or 15pcs) leaf springs with bogie spring and stabilizer
Rear suspension: 12 pcs leaf springs with bogie spring and stabilizer
Steering System
Hydraulic steering with power assistance
Braking System
Front drum rear drum brake, four-circuit protection valve
Service brake: dual circuit compressed air brake
Parking Brake(emergency brake): spring energy, compressed air operating on rear wheels
Auxiliary brake (optional): engine exhaust brake(EVB), antilock brake system (ABS), automatic brake gap adjustment arms
Tires
12.00R20 (12.00-20,315/80R22.5, 295/80R22.5. 12R22.5, 12.00R24 optional), with one spare tyre
Fuel Tank Volume (L)
400 (600)
Asphalt tank capacity (M3)
12
Thermal asphalt
160-180 centi-grade
Overall Dimension (LxWxH) (mm)
10700x2550x3450
Thickness of insulation layer
50mm
Stainless steel outer layer
Yes
Asphalt spray rate
0.25-3.0L/m2
Spray width
6000mm
Number of nozzles
48
Control system
Touch screen computer control in the cabin
Hand spray gun
5m with metal hose
​
Asphalt distributor truck Working parameter:
---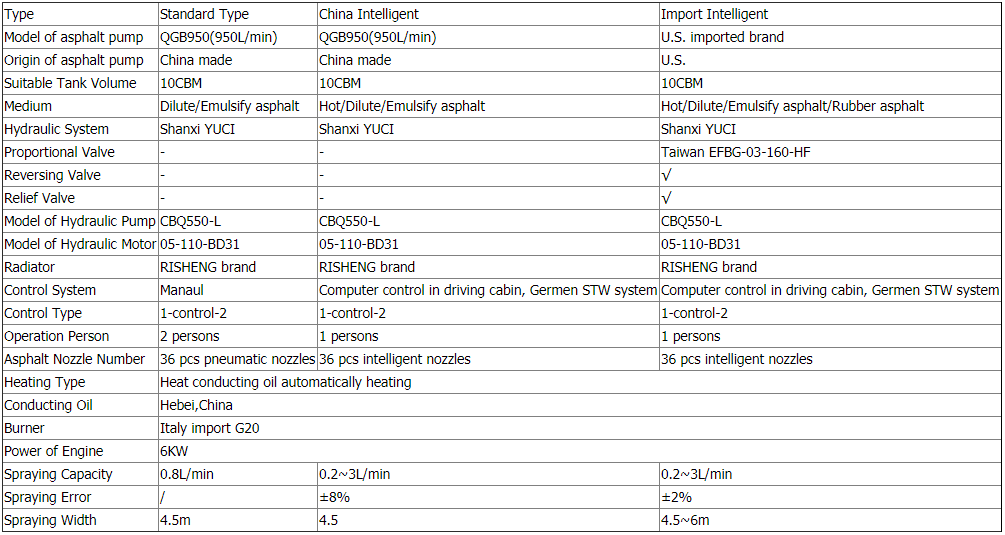 ISUZU Asphalt delivery truck details:
---
ISUZU Asphalt delivery truck optional style:
---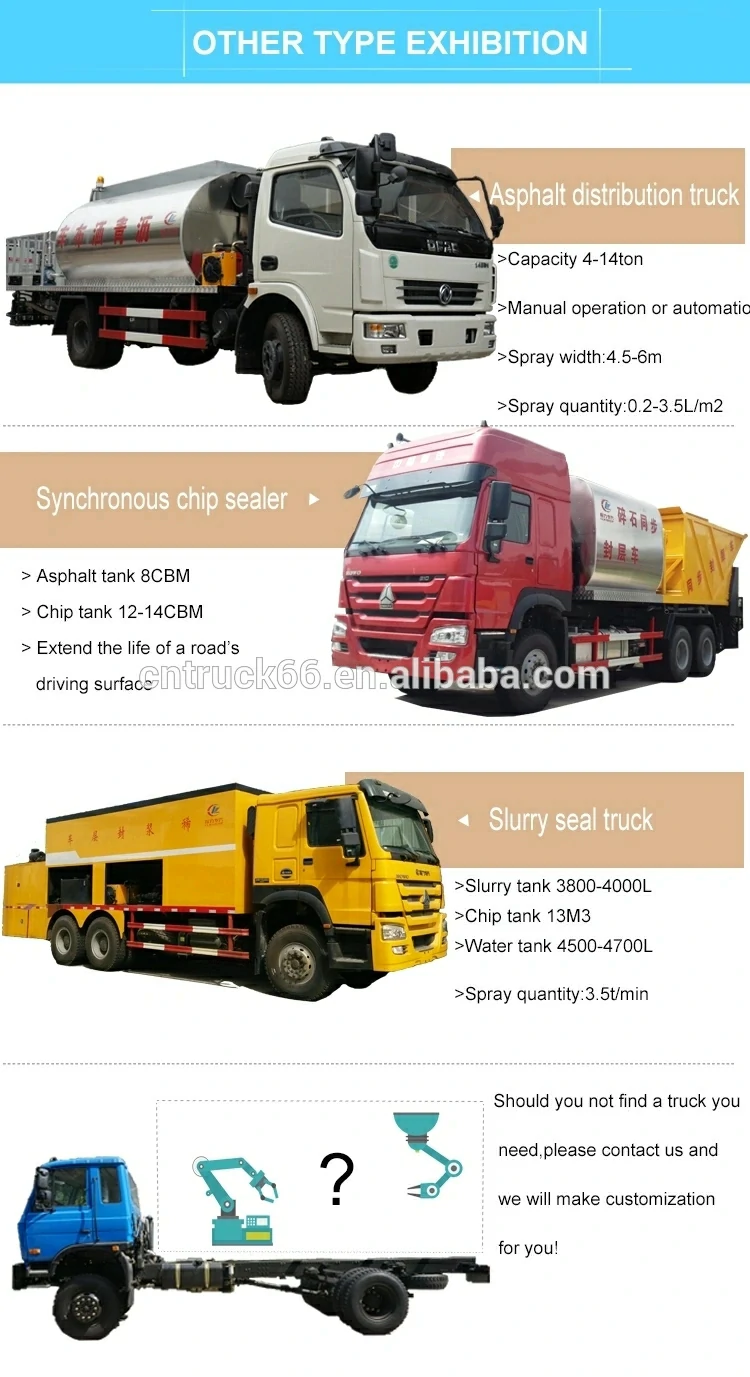 Asphalt distributor machine Tools and instructions:
---

Factory Advantage:
---
17 years of design and export experience.
100% customized trucks.
Quick delivery guarantee.

Documents:
---
Serving more than 80 countries and regions.
Professional guidance on import documents.
CO, FORM E, FORM P, pre-implantation inspection
construction sand rock transport truck shipping:
---
Maximize save your sea freight.
Professional guidance on your importing documents.
Safe, fast and timely