Sinotruk Howo 20m3 Asphalt and Gravel Synchronous Sealing Truck Description:
---
Sinotruk Howo 20m3 Asphalt and Gravel Synchronous Sealing Truck is to spray the asphalt binder and spread the crushed stone at the same time so that the asphalt binder and the aggregate have the fullest contact to achieve the maximum degree of bonding between them.
Advantage:
---
Chassis:
HOWO truck chassis, perfect performance
SINO series engine, super powerful; reliable performance, no overhaul within 500,000 km.
Spray width can be adjusted flexibly from 2m to 6m.
Easy operation and easy maintenance.
Asphalt distributor System:
Automatic asphalt distributor truck boasts three layers. It can adjust the spray amount according to its operational speed.
The whole asphalt spraying process can be finished in the cab.
Each nozzle is controlled by a separate computer. The spray width can be adjusted at random.
The control procedure is equipped with two control systems, cab, and post-operational platform to ensure the reliability of asphalt spray.
A Computer control system adopts a modular design for lower accident rates and maintenance.
A temperature of asphalt in the tank is kept below or equal to two degrees per hour
The distributor is equipped with an automatic blowing device to shift the asphalt outside to the tank
Specification:
---
name

Model and Specification

owning system

Sinotruk Howo 20m3 Asphalt and Gravel Synchronous Sealing Truck Nigeria

car chassis

ZZ 1 257 V 5847 F 1

chassis

Sinotruk Howo cab

engine

MC 0 9.35-60

Sinotruk 350 hp, China VI

Asphalt tank capacity

8 cubic meters

Asphalt tank + stone silo

Inner tank volume

stone silo

1 2 cubic meters

inner lift

Insulation layer thickness

50mm _ _

Rock wool insulation

Outsourced stainless steel

1 mm

1 thick stainless steel plate

PTO _

full power PTO

source of motivation

Can be sprayed from scratch

Triple gear pump

CPC 4 – 50-20-16

Hydraulic system

Tianjin

Proportional valve

EFBG – 03-160 – HF

Taiwan

Asphalt pump motor

05-130- BD 3 1

Ningbo Hanzhu

asphalt pump

QGB 950 _

asphalt
sprinkler system

Expensive, 950L/min n

Number of nozzles

3 2

The control mode is: 1 control 1

burner

G 20 (200,000 kcal/hour)

heating system

Two Riyadh diesel burners

Heat transfer oil pump

RY 2 5-25-160

Hebei

Heat transfer oil pump motor

380 V-2.2KW-2 pole

Lu'an, Anhui

Stone spreading method

gravity flow

Chips Scattering System

16 way material gate (computer control)

control system

Cab touch screen computer control +
Rear work platform control (backup )

Control system adopts: Siemens Modular design, running speed Faster and smoother, lower failure rate

speed sensor

Ni 5 – G 12

Turck , Germany

temperature controller

WZP – 230

Shanghai Xinghui

generator

5.5 KW Honda Gasoline Generator

power system

joint venture
​
Advantages of our Asphalt Bitumen Distributor  
Spraying amount and working width can controlled by hands or machine, each spray nozzle can be controlled separately. To control the determinant of spray nozzles make a free combination, in the driver's cab or rear platform, we can arbitrary adjust the spraying width.

The automatic control system can measure the speed of the truck and calculate the revolutions of bitumen pump by input spraying volume, width and bitumen type to adjust the revolutions automatic.

We use vehicular fast heating system (10 – 15 ℃ /h) which can improve heating efficiency and reduce construction time to ensure the temperature when we are spraying.

We have flushing nozzle system which can flush out the remain bitumen from spray nozzle by using diesel and high pressure air.
We take international famous components to build the key parts of our truck such as hydraulic pump, hydraulic motor, bitumen pump, proportional valve, automatic control system, we make this effectively to extend our truck's working life.
We are using international advanced viscosity asphalt. so that our pump can suck outside bitumen into the box and spray it out of the box

Our heating system use Italy imported burner which have automatic ignition and temperature controlling function.
The outside of all heat pipes have heat insulator which can reduce the heat loss and avoid to be scalded.
The structure of our spraying pole is three-phase and folding type, you can do dual and multiple spraying by moving spraying pole up and down and broaden spraying range by moving the spraying pole right and left, furthermore it can effectively avoid some barriers.

We have unloading and depositing slot, liquid level meter, safety device and alarm inside the bitumen box.
The density of bitumen is 1150-1250kg/m³
Details show of 10m3 Asphalt Sprayer Bitumen Sprayer Trucks For Road Construction Price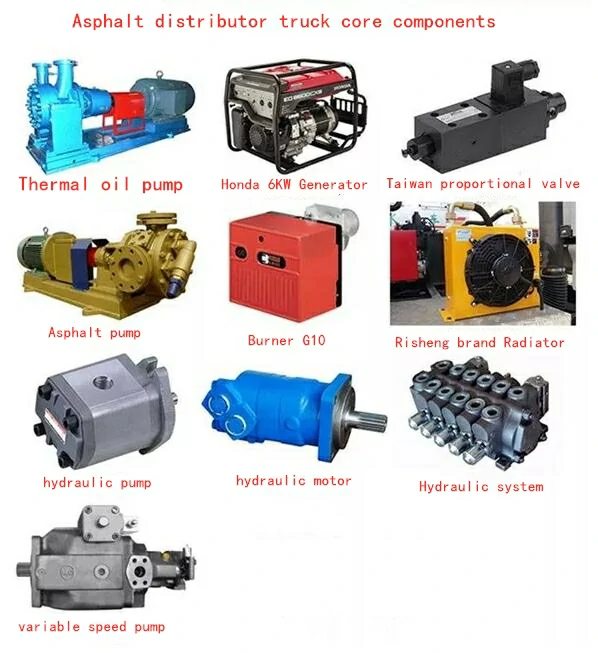 Asphalt distributor truck Working parameter:
---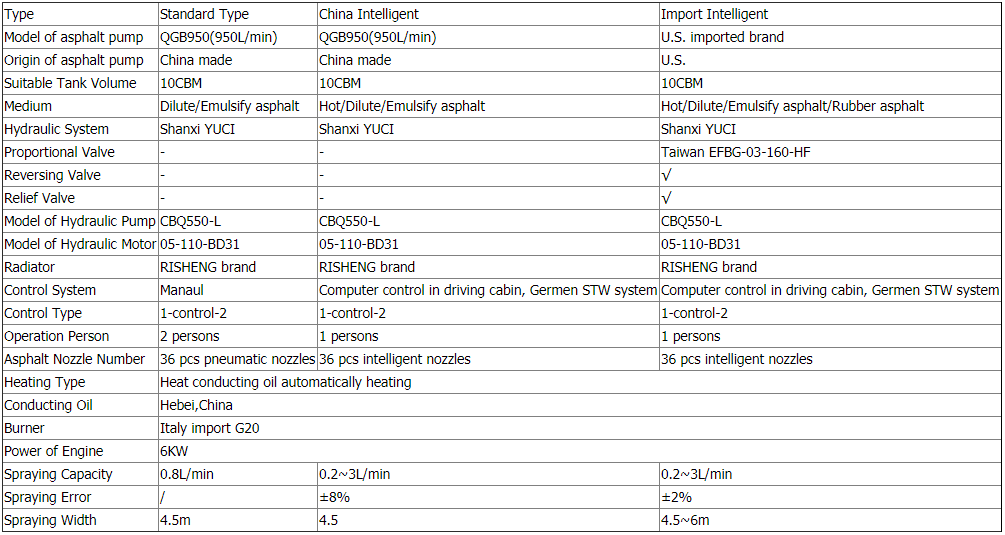 ISUZU Asphalt delivery truck details:
---
ISUZU Asphalt delivery truck optional style:
---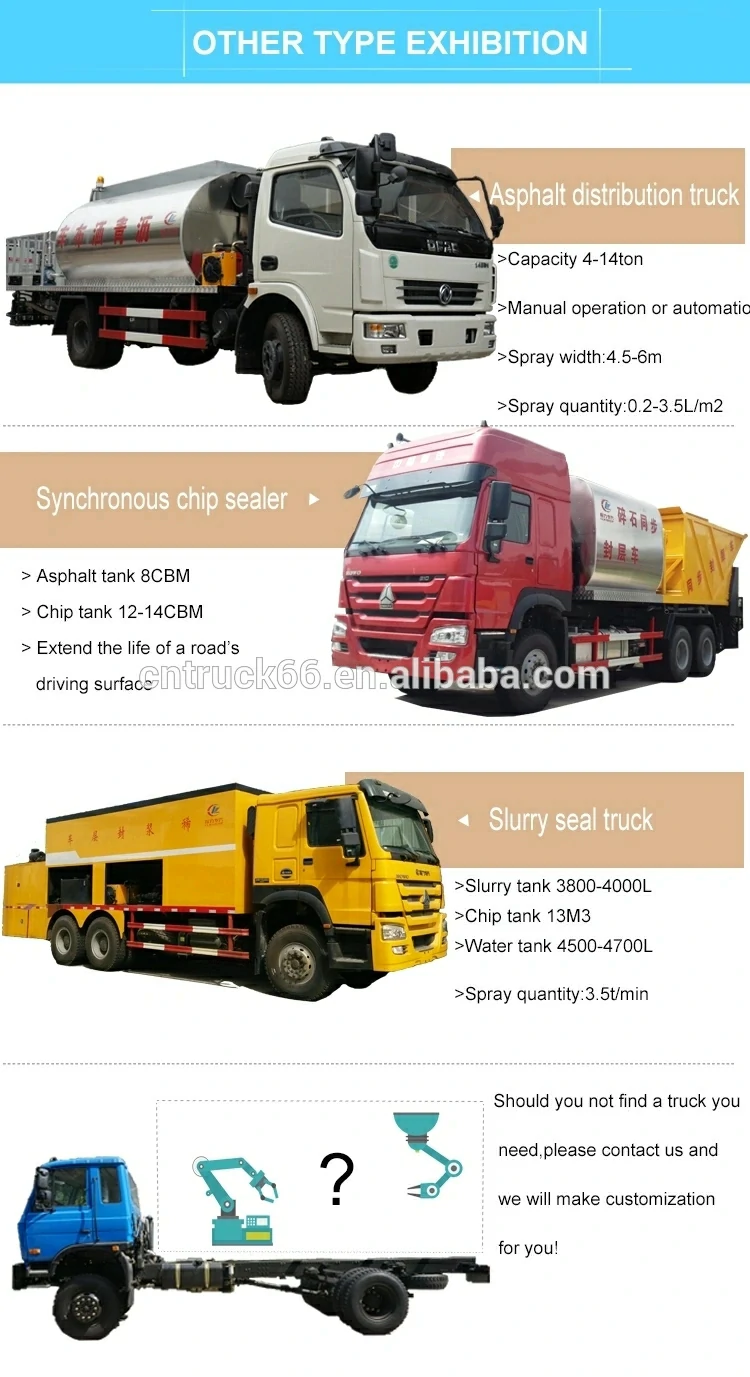 Asphalt distributor machine Tools and instructions:
---

Factory Advantage:
---
17 years of design and export experience.
100% customized trucks.
Quick delivery guarantee.

Documents:
---
Serving more than 80 countries and regions.
Professional guidance on import documents.
CO, FORM E, FORM P, pre-implantation inspection
construction sand rock transport truck shipping:
---
Maximize save your sea freight.
Professional guidance on your importing documents.
Safe, fast and timely