HOWO 5 tons refuse compactor vehicle for sale Kazakhstan Description:
---
4×2 HOWO 5 tons refuse compactor vehicles also called Truck-mounted compactors, sanitation garbage compactors, compressing garbage trucks, waste compactors garbage trucks, and Hydraulic compressor garbage trucks.
The compactor garbage truck is designed for daily rubbish transport in such living areas as all kinds of cities, large stations, ports and wharves, airports, and densely-populated areas like industrial and mineral enterprises and military units.
Chengli compactor garbage truck reduces back-and-forth transport times and prevents rubbish and stinks from spreading and avoids second-time pollution produced by polluted water.
Refuse compactor vehicle tail-gas discharge reaches EUROPEAN V and VI standards. which is safe and environmental-protective.
Advantage:
---
HOWO 110HP light duty chassis, perfect performance
Sinotruck engine, super powerful; reliable performance, no overhaul within 100,000 km.
Compression body capacity from 3 to 20 Cubic meters.
Easy operation and easy maintenance.
Various types of refuse container lifters are available.
Specification:
---
HOWO 5 tons refuse compactor vehicle for sale Kazakhstan
Type: 4X2 Garbage compactor truck(6 wheels)
Truck: SINOTRUK HOWO
Dimension:
Length: 6,900mm
Width: 2,320mm
height: 2,650mm
Wheelbase: 3800mm
Structural Weight Rating:
Tare Weight: 6,200 approx.
Payload: 7,200 kg
G.V.W.R.: 13,400 kg approx.
Engine: YUNNEI 4102
Model: YN38CRD1, 4 cylinders in line, Euro 4 emission standard, Electronical Control, Water cooler
Maximum output: 129 hp (95 Kw) at 3000rpm
Maximum torque: 315N.m at 1600-2400rpm
Displacement: 3.76 L
Transmission:
Model: WLY6T46, 6 forwards and 1 reverse, manual, 460 N.M
Chassis Frame, Suspension, and Axle:
Frame: 11/9+7;
Suspension: Steel spring 9/7 for heavy loading;
Front Axle: 2.7 tons payload;
Rear Axle: 7.2 tons payload;
Tire: 8.25R16×7
Others
Power steering, air brake, air conditioner, PTO
Garbage Compactor Tanker:
The volume of the Garbage Compactor Tank Body(m3): 5.5M3
Volume of the Filler(m3) : ≥1.5
Height of Filler Entrance(mm) 1100
Time of one Loading Cycle(s) <30
Time of one Unloading Cycle(s) <45
Max Brake Crase Pressure(kgf) >18000
Pressure of Fluid System(Mpa) 20
Front/Rear Drain Tank Capacity (L) 200/150
ELECTRICAL:
Voltage: 24 V
Working parameter:
---
Hydraulic pump
Long source large flow 32-80 pump, optional double pump, and double valve
Body material
High-strength T420 special steel plate
Hydraulic cylinder
Xiamen Yinhua, Yantai Future
Box thickness
Lightweight design with 4mm at the bottom and 5 sides
Multi-way valve
Jiangsu Zhongmei, Italy imports
Sewage tank
2 (1 on the side and 1 on the rear)
Conversion mode
Photoelectric switch (formerly pressure relay)
Sewage seal
Tail diversion groove + rubber hydraulic lock
Automatic control
Standard configuration, Siemens PLC electronic control
Lighting device
Tail night light
Electric control box
3 (1 in the cab and 2 in the rear)
safety devices
Tail-lift with hydraulic lock
Optional configuration
Hanging plastic buckets (120L, 240L, 360L, 480L, 660L), hanging iron buckets, triangle buckets, fully sealed buckets, swing arm racks, electric hydraulic system
New craft:
---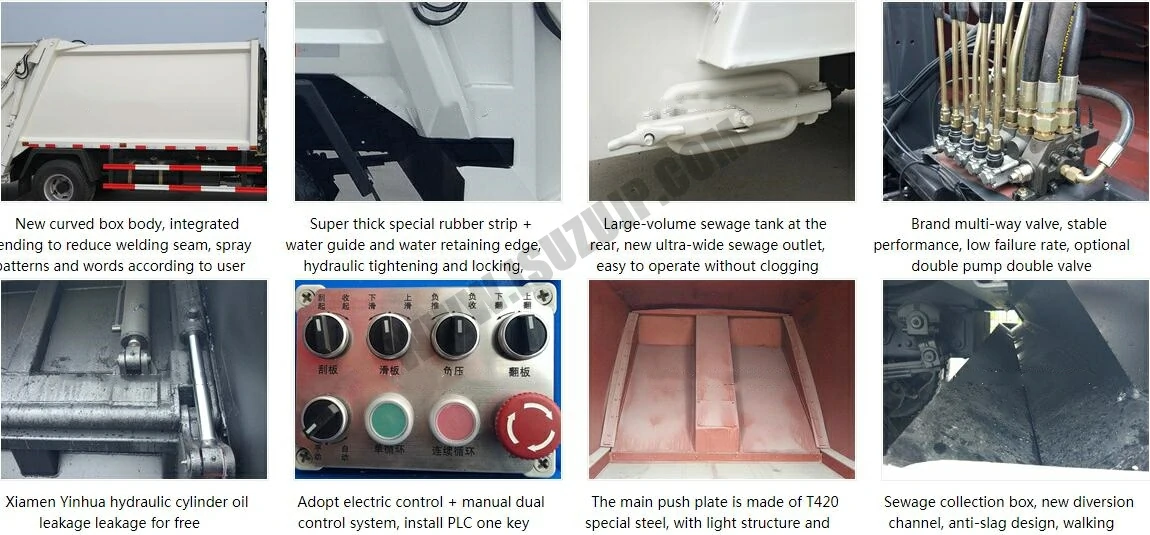 Various rear loading systems:
---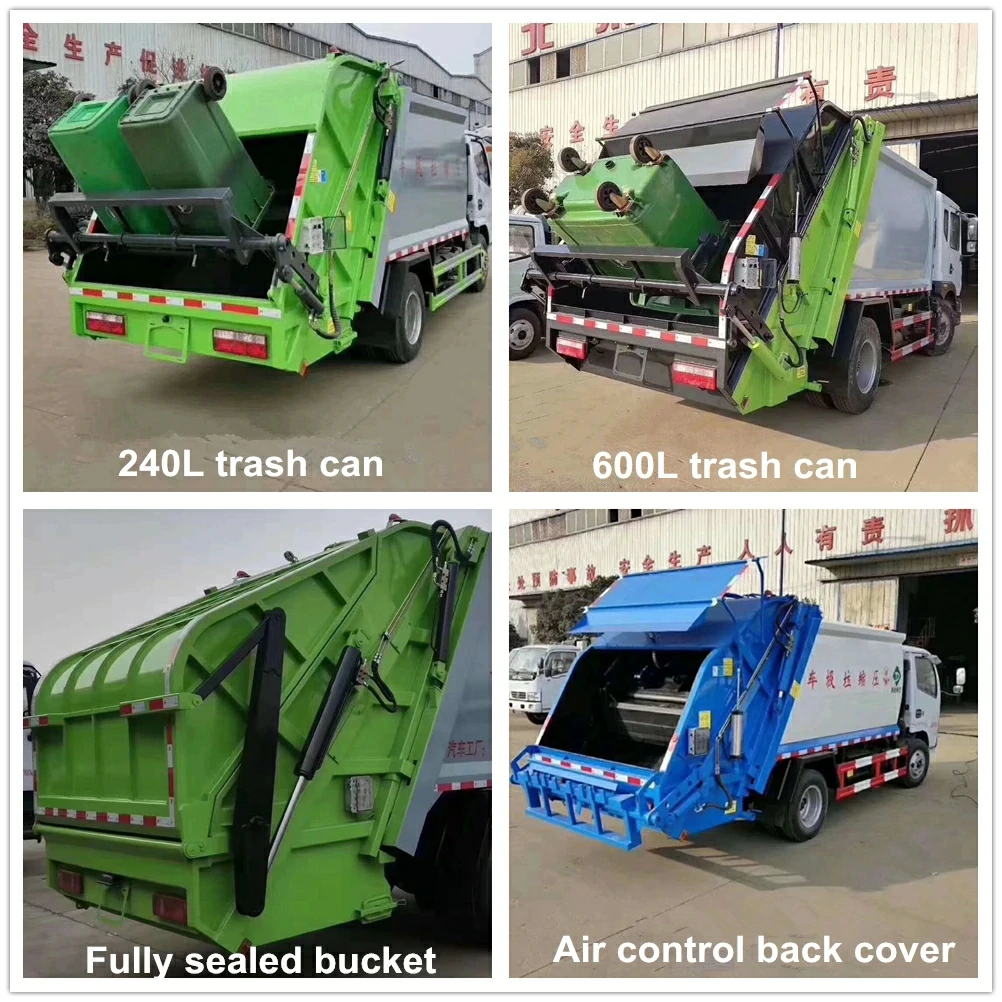 customized drawing:
---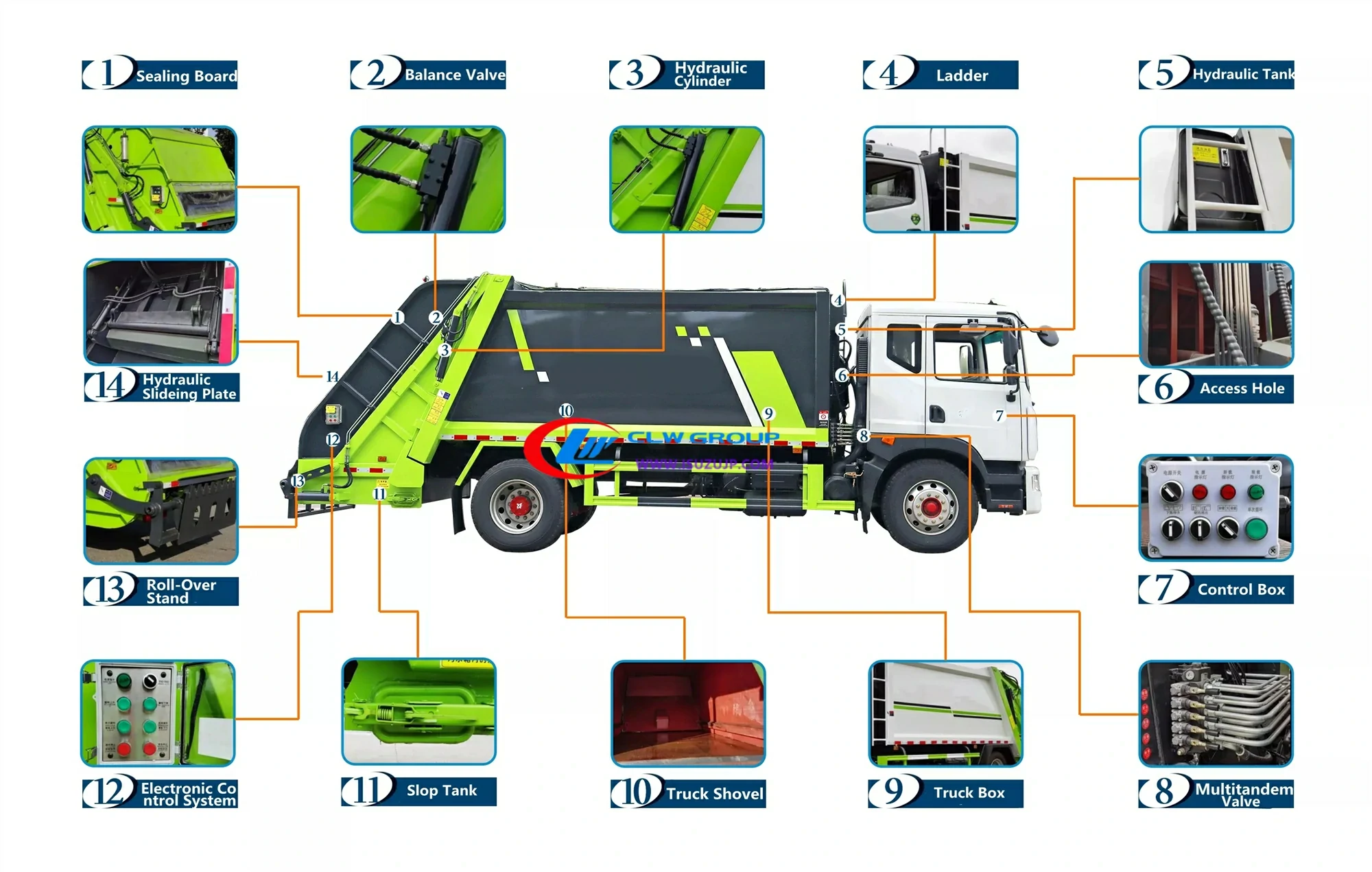 Detail drawing:
---

Common garbage truck style:
---
trash collection truck technical training support:
---

Garbage collection vehicle tools and instructions:
---
Free parts for 12 months.
Supply of original parts.
DHL serves 7 days worldwide.
rubbish collection vehicle Factory Advantage:
---
19 years of design and export experience.
100% customized trucks.
Quick delivery guarantee.

refuse transfer truck Documents:
---
Serving more than 80 countries and regions.
Professional guidance on import documents.
CO, FORM E, FORM P, pre-implantation inspection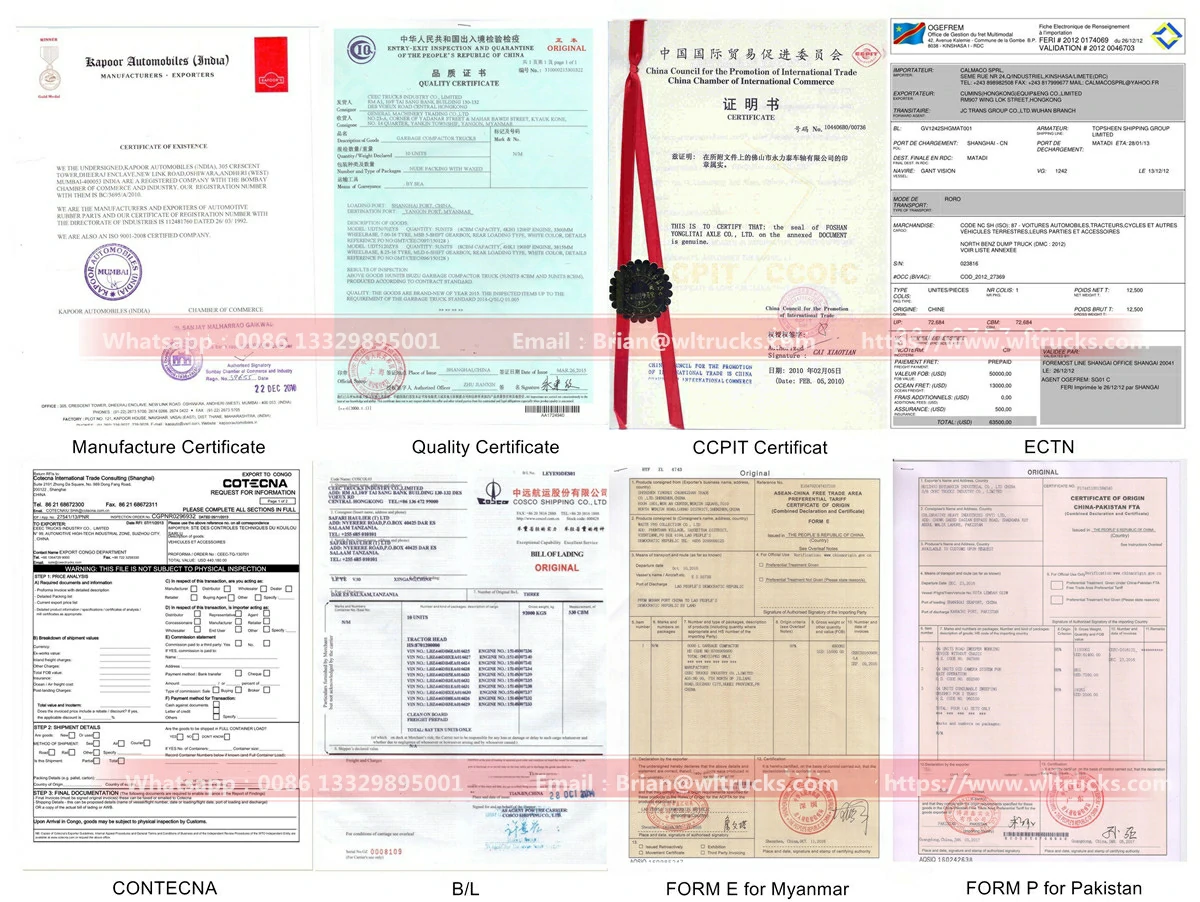 refuse compactor truck shipping:
---
Maximize your shipping costs.
Professional guidance on import documents.
Safe, fast and timely
Isuzu Truck order case:
---
Fast shipping to all parts of the world.
The truck color and logo can be customized.