Introduction:
---
4X2 Sinotruck HOWO Aluminium Alloy Adr jet fuel truck (also called fuel oil bowser, diesel gasoline tanker bowser, fuel oil dispenser truck, petrol tanker truck, refuel bowser vehicle) is used to transport oil, diesel, gasoline, kerosene, etc.
ChengLi company's Production fuel bowser can be divided into many compartments to transport different types of fuels, lubricants, crude oil, alcohol…
ISUZU fuel truck can be equipped with an oil pump and refueling machine, flow meters all for easy operation.
Advantage:
---
Sinotruk Howo chassis, perfect performance
ISUZU engine, super powerful, no overhaul within 500,000 km.
Fuel Tanker capacity from 3 to 32 Cubic meters.
Easy operation and easy maintenance.
Euro V and Euro VI engines meet the environmental protection requirements of all countries.
China largest Isuzu truck manufacturer, focusing on Isuzu truck manufacturing for 17 years.
Top parts two-year warranty, after the warranty period, we only charge the cost price.
Specifications:
---
Cab
Flat top
Engine(PS)
280HP
Dimensions(mm)
8200*2500*3350
Tank inner size(mm)
5500×2000×1400
Curb Weight(kg)
10000
Load (kg)
8500
Delivery
about 30-50 days
Warranty
12 months
Item
4X2 Sinotruck HOWO Aluminium Alloy Adr jet fuel truck Bangladesh
Cab
Sinotruk HW76 NEW cab, reversible, with A/C
Front axle
HF 7 Ton
Rear axle
ST 16 Ton
Transmission
HW13710 transmission with 10 speed gears
Vehicle frame
Straight through reinforced beam
Tires
295/80R22.5 type 6 PC Vacuum Tires include 1pc spare tire
ABS
Have
PTO interface
have
PTO
HW70.  Pump in and pump out, the engine speed will be set to 700RPM when the PTO is on, when it is off the speed will return to normal.
With independent control valve to control the hydraulic pump independently when using PTO
Front/rear suspension
Front: 1500, Rear: 2190(mm)
Departure angle
Front: 16, Rear: 13
suspension
Leaf spring  11/9+8
Leaf spring
front 11, rear 9+8
Number of axles
2
Wheelbase(mm)
4600
Number of tires
6+1
Track(mm)
2020/1860
Lines
A 24/12V converter and connector included in the wiring circuit (mainly for transmitting and receiving dual-use radios)
Drive type
4*2
Engine
D10.28-40    sinotruk 280hp
daylight LED lights up & beacon warning light (flat horizontal light) on top of the cab lights up when the engine is running and driving.
Emission Standards
Euro IV
Driving style
Steering wheel / RHD
Speed limiters
Have
Request
Structural pre-embedding, with pads and spring bolts
Fuel tank capacity
400L
Brake
Drum
Braking System
Air brake
Spare tire rack
Have
Lights
Have.  all are LED lights. Engine and day-light,warning lights  linkage with.
LED work light on the left side for night work, with a switch on truck.
Voltage
24V
Toolbox
Have
Colour
white
Steering Machine
ZF8198
Compartment
4 compartment, Evenly separated. Each bin is numbered and the dipstick is marked with the number of the bin to which it relates
Tank
aluminum head: 7mm, cylinder: 6mm
Partition board
4 pcs  aluminum 7mm
Tank volume
10CBM
Top handrail
Pneumatic handrail, switch set at the end of the tank (or below)
Walkway of top tank
Have
Fire extinguisher
Have
Climb the ladder
Have
Exhaust pipe
Front position. Adjustable exhaust pipe.
Manhole
4 units  DN500   CIVACON  brand ADR specification
Discharge valve
Have, 4"  4 sets   CIVACON  brand, API Adapter, Dust Cap.
Subsea valve
4 sets
Vapor Recovery Unit
1 set   CIVACON  brand
Pneumatic control Unit
Have  CIVACON  brand
Emergency shut-off
have
Explosion-proof
tank mouth
4 sets CIVACON  brand
Bottom filling
4 sets
Breathing valve
4 sets
Overload system
Have, Overload protection
ADR specification
Overload sensor
Level gauge
Float type/one per compartment ; Put on the tank, External display
Oil measuring dipstick
One per silo,with corresponding number.Precise calibration before leave our factory.
Yellow warning light
3pcs/front one on the cab, back two on the left /right sides of horizontal straight bar
Refill System
A complete set of fuel dispenser, fueling nozzle, fueling hose (15m) all on the left side of the truck
Reversing camera
have one, Outside the truck, rear position.
Monitoring camera
have two, each on left and right side of the truck.
In-cab camera
have one. Align the driving position.
GPS
Have. With monitoring host (four-way), SD card, LCD monitor, and adapter cables.
Remark
photo for your reference.
All configurations of tank valves are CIVACON specifications
Boxes are on the left hand side of truck, all labels and instructions must be in English
Sinotruk fuel tanker truck structure picture:
---

HOWO Oil Truck technical training support:
---
Fuel Tanker Truck Parts:
---
Free parts for 12 months.
Supply of original parts.
DHL serves 7 days worldwide.
Sino oil truck Factory Advantage:
---

Export Document:
---
Serving more than 80 countries and regions.
Professional guidance on import documents.
CO, FORM E, FORM P, pre-implantation inspection …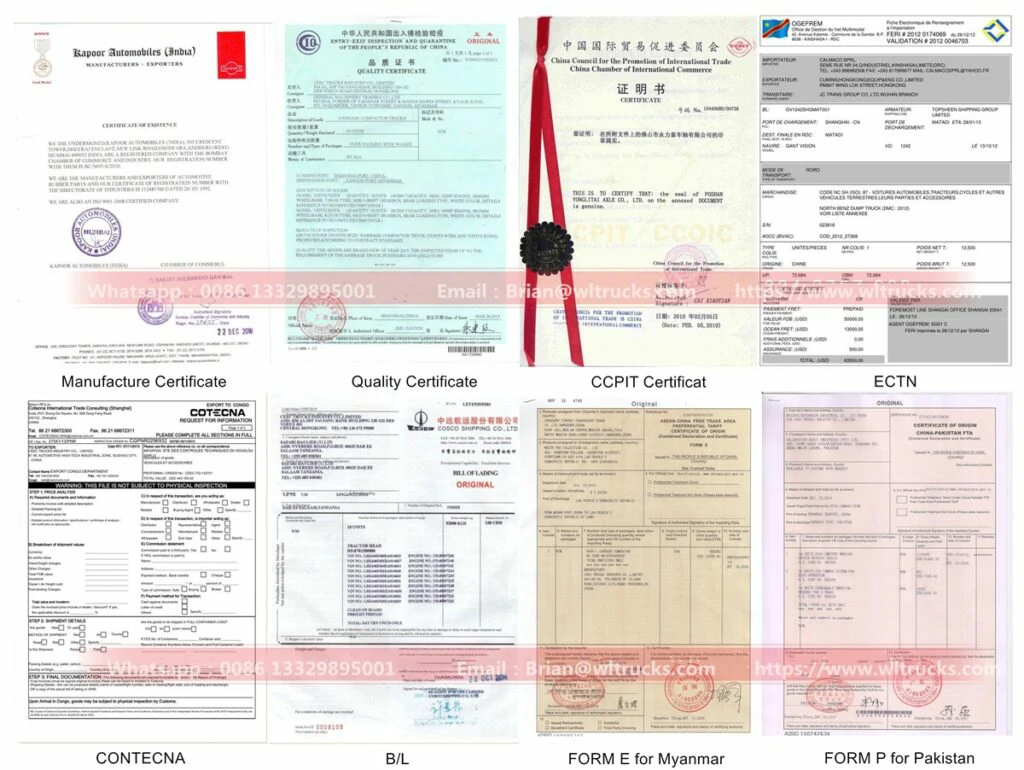 Diesel truck Shipping:
---
Maximize your shipping costs.
Professional guidance on import documents.
Safe, fast and timely
Fuel truck Batch delivery case:
---
Fast shipping to all parts of the world.
The truck color and logo can be customized.