10 wheel Sinotruk Howo 20 tons combination sewer cleaning truck Description:
---
10 wheel Sinotruk Howo 20 tons combination sewer cleaning trucks also called Combined jet vacuum truck, suction jetting truck, combination sewer cleaner, combined jet suction truck, jetting and vacuum truck, vacuum and jet vehicle, combine jetting / sucker truck
The fecal suction truck is a vehicle that is designed to clear any blockage with jetting nozzles moving in sewage pipelines under high pressure, and clear sewer drain lines by means of powerful vacuum suction to suck all water plus mud from the sewer hole. This truck is widely used for environmental protection.
ISUZU combined vacuum jetting truck carries a high-pressure pump, a water tank, high-pressure hoses, and nozzles; also a vacuum, vacuum tanker, and suction pipeline. and can be mounted on chassis 4×4, 4×2, 6×4, 6×6, etc
Advantage:
---
100% custom-made
3,000L to 30,000L available
Short delivery time 7~30 days
Easy operation & Easy maintenance
15 years of spare parts & Technical support
Sinotruk HOWO chassis, perfect performance
Sinotruk technology engine option, super-powerful, no overhaul within 500,000 km.
Specification:
---
Shape
10 wheel Sinotruk Howo 20 tons combination sewer cleaning truck for sale Zambia
Material
Mild steel.
Capacity.
16,000Lilters sludge tank. 4,000Liters water tank.
Shell thickness
6mm.
Dish end thickness
6mm.
Working pressure
-0.9bar underpressure.
Tank inner filter
Separate the sucked wastewater and solid, which protects key parts like the pump, valve and hose.
Tipping cylinder
Italy PENTA brand front tipping and single-acting cylinder. Front tank bottom mounted with safety support for protection
Liquid level indicator
Mounted at the rear of the tank.
Overpressure safety
The overpressure relief valve on tank top.
Full opening rear lid
Hydraulically opening and locking
Outlet Valve
One 150mm ball valve, manual operation.
Anti over-flow
SS float ball prevents overfilling sludge tank.
When the tank's full, ultrasonic level indicator is activated and vacuum pump is closed automatically, allow no need to shut down from the Cab.
Reverse discharge
Pressure switch system changes positive pressure to be negative, which allows the tank inside wastewater be reversed discharged via suction boom. This improves working efficiency.
Vacuum Unit
Vacuum pump
Liquid ring vacuum pump, is driven from the PTO on the
gearbox, provides high airflows along with high vacuum levels for removing materials above or below liquid surfaces.
Engaged and disengaged from drivers cab.
Brand
KENFLO
Max vacuum level
-0.92Bar
Air flow rate
2800m3/h.
Power requirement
90kW.
Rotate speed
Max 800r/min.
Pump cooling
Cooling Water tank in mild steel 1,500L, mounted behind cab
Pump protection
1)stainless steel ball valve in the tanker;2)filter;3)auto vacuum check valve.
Telescopic suction boom
Stainless steel material. 270°horizontal rotation and 1350mm extension, 6m working radius. Vertical lift up to 6m from ground
Working parameter:
---
Dredge function
Sewage suction function
High-pressure pump brand
Tianjin Tongjie standard, Germany Pinfu optional
Vacuum pump brand
Veyron is standard, Shandong water ring pump is optional
Drive method
Chassis engine + sandwich power take-off
Drive method
A power take-off, Weichai 340-420 vice machine
Dredge stress
16-24 Mpa
Suction pressure
-0.3Mpa
Dredge traffic
75-275 liters per minute
Exhaust flow
6-35 cubic meters
High-pressure tube length
Standard 80 meters, can add 40 meters
Sewage pipe length
Standard one 8 meters, can add 4
High-pressure nozzle
Standard 10 nozzles with different functions
Blowdown method
Air blowdown + tank tail flow + lift dump
Coil reel
Hydraulic rotation + labor-saving + tube self-cleaning
Tank material
Carbon steel Q345, stainless steel 304
Antifreeze measures
Pneumatic blowing or vacuum suction
Medium and small tank thickness
5 mm tank, 6 mm head, 4 mm partition
Jug location
Hanging water tank on both sides, a front tank of sub-bin
The thickness of large tank
Tank body 6-8 mm, head 8 mm, partition 5 mm
Optional configuration
Liquid full alarm, liquid full stop, anti-corrosion treatment in the tank, solid-liquid separation filter cartridge + hydraulic twist
New craft:
---
Optional configuration:
---
vacuum tank truck composition structure:
---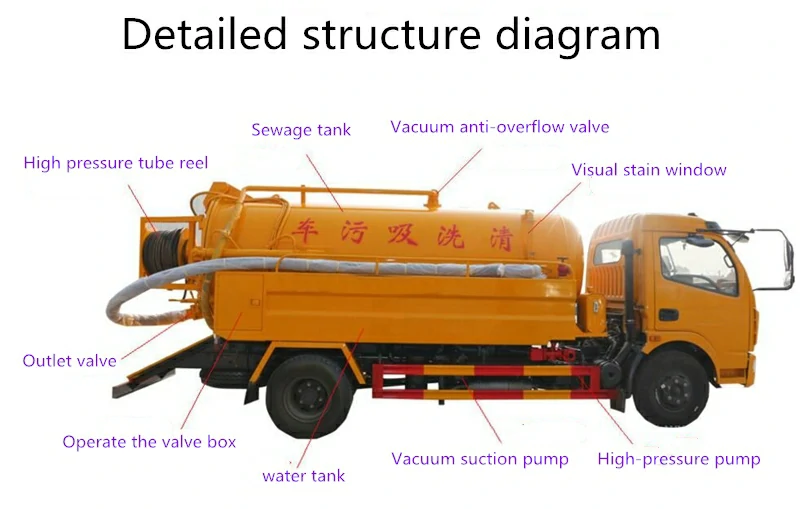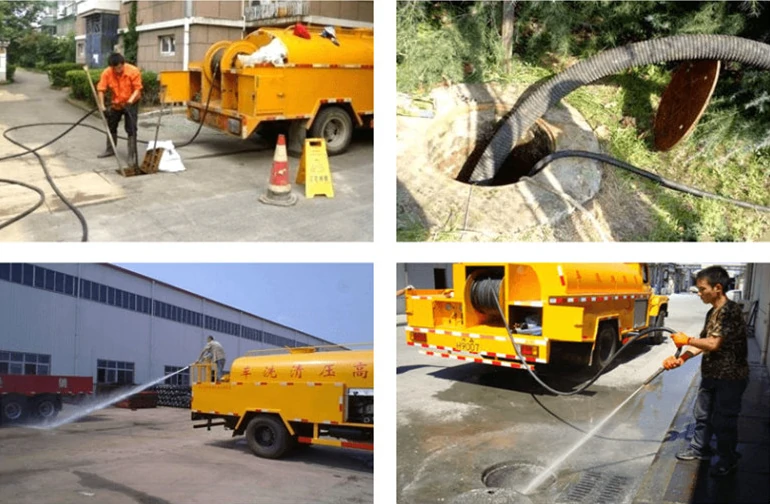 Sewer cleaning truck technical training support:
---

Sewage tanker truck part,tools and instructions:
---
Free parts for 12 months.
Supply of original parts.
DHL serves 7 days worldwide.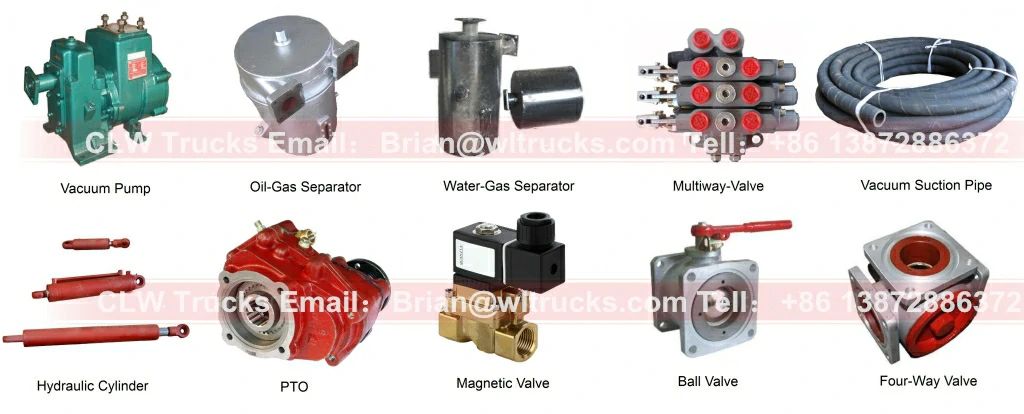 rubbish collection vehicle Factory Advantage:
---
19 years of design and export experience.
100% customized trucks.
Quick delivery guarantee.
refuse transfer truck Documents:
---
Serving more than 80 countries and regions.
Professional guidance on import documents.
CO, FORM E, FORM P, pre-implantation inspection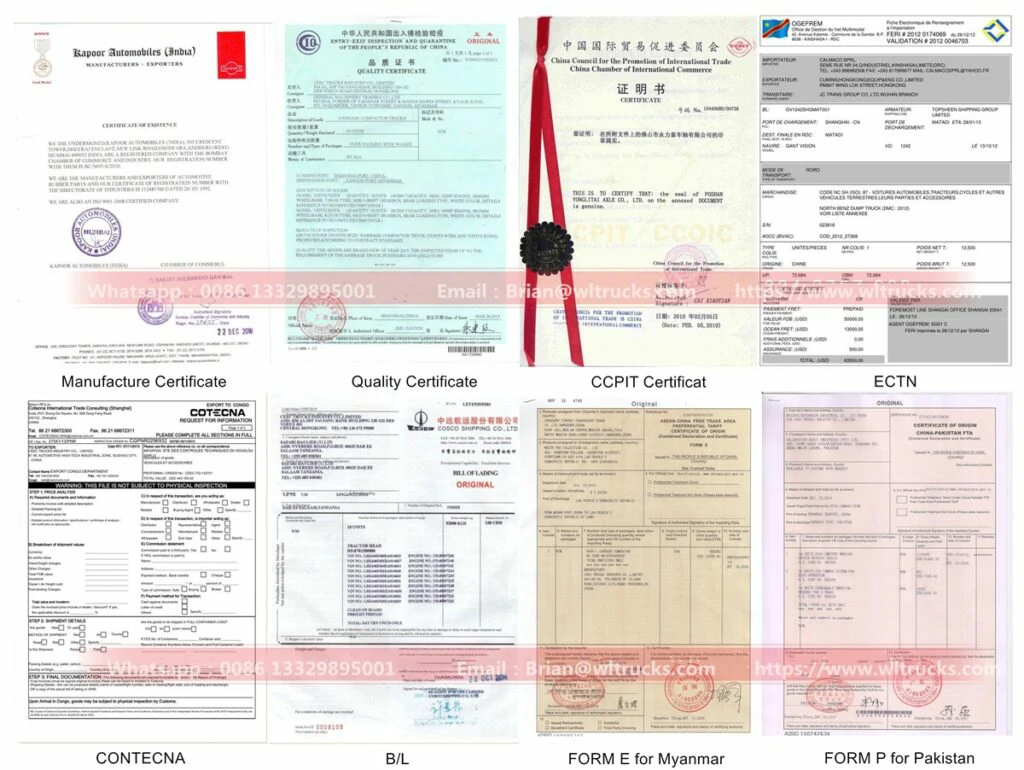 refuse compactor truck shipping:
---
Maximize your shipping costs.
Professional guidance on import documents.
Safe, fast and timely

Sewer truck order case:
---
Fast shipping to all parts of the world.
The truck color and logo can be customized.