Sinotruk Howo 20000liters milk truck Application:
---
Sinotruk Howo 20000liters milk truck Tank material: stainless steel 304-2B, food-grade material. All pipes and valves are made of stainless steel.
80mm Polyurethane foam to keep the temperature to prevent milk spoilage.
 Equipped with a CIP cleaning device to clear the inner side of the tank to keep it clean.
Support transportation medium: Milk, drinking water, cooking oil, beer, maltose, maltose, ice cream
Optional compartments, installation of pumps, flowmeters, etc.
Advantage:
---
HOWO chassis, perfect performance
Sinotruk engine, super powerful; reliable performance, no overhaul within 500,000 km.
Nice shape, rational structure
Water pump super powerful, efficient pump in and out
The strong, durable, perfect performance
Prolonged service life
Specification:
---
Tanker volume
Sinotruk Howo 20000liters milk truck Mongolia
Material
4MM 304-2B food level stainless steel
Others
With PIC clean system;
With insulating layer, 80mm polyurethane foam, 2mm thickness stainless steel plate outside;
Thermal insulation function: 24 hour medium temperature rise and fall≤1ºC
Cabin
Driving type 6×4      LHD/RHD
HW76 cab, with one bed and air condition
Vehicle Main Dimensions
Overall dimensions (L x W x H)mm
9500×2500×3210
Wheel base  (mm)
4300+1350
Wheel track  (front/rear) (mm)
2020/1800
Weight in KGS
Tare Weight
13500
payload
25000
Front axles loading capacity
1×7000
Rear axles loading capacity
2×16000
Max. driving speed(km/h)
90
Engine
Brand
SINOTRUK
Model
WD615.47
Type
4-stroke direct injection , 6-cylinder in-line with water cooling, turbo-charged and inter-cooled
Horse Power(HP)
371 HP
Emission standard
Euro 2
Gearbox
HW15710, 10-speed forward and 2 reverse gear
Clutch
Reinforced diaphragm clutch, diameter 430mm
Steering
ZF8098,power steering, hydraulic steering with power assistance
Oil tank
400 liters
Tire
12R22.5 tubeless tyre 11 pcs including one spare tire
Tank manufacturing standards:
---
The tank body is composed of an inner tank, a heat preservation layer, and a heat preservation layer protection layer:
The liner is made of 3mm thick 304 food-grade stainless steel, seamlessly welded and finely polished. The tank is equipped with a wave structure anti-wave plate, which has strong impact resistance.
The PIC automatic cleaning system is used in the tank, and the cleaning device rotates 360 degrees in all directions. It can clean any dead corners in the tank to achieve the best cleaning effect. A special heat preservation milk storage tank. Insulation performance, and hygiene standards can reach the domestic advanced level.
The tank insulation layer uses 8cm thick polyurethane, the density reaches 32~35 kg/cubic, to ensure that the temperature rises and fall within 24 hours during the transportation is less than or equal to 1 degree. Ensure the quality of fresh milk during transportation.
The outer layer of the tank belongs to the protective layer of the thermal insulation layer, which is made of stainless steel plate, which is lightweight, and has good strength.
There is a vent valve on the top of the tank to automatically adjust the opening to reduce the evaporation loss of the liquid and prevent the tank from deforming when positive and negative pressures are generated in the tank.
It can transport and transport fresh milk, liquid food, purified water, edible oil and other media at the same time through sub-bins.
Milk tank truck detailed picture:
---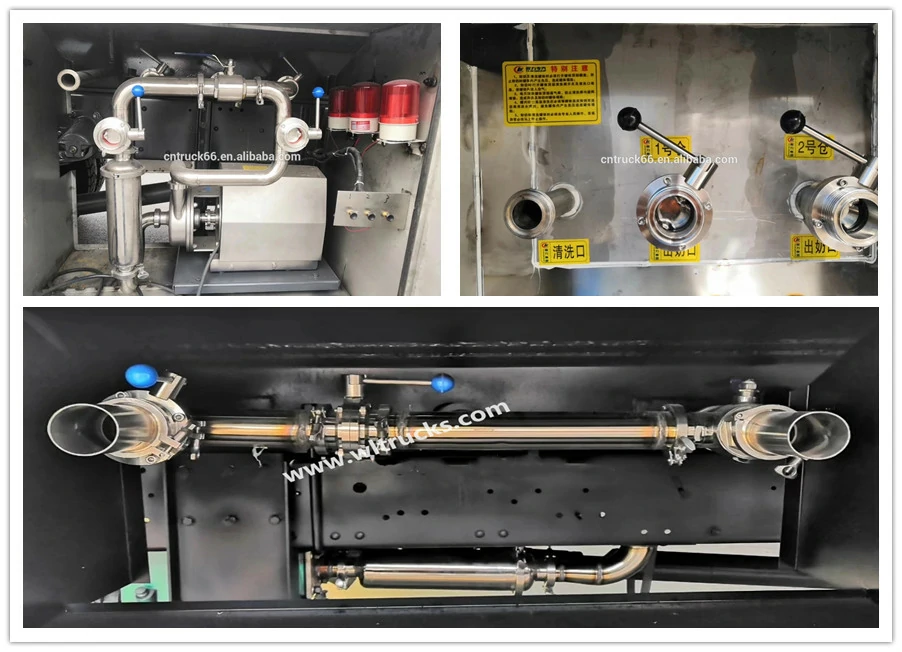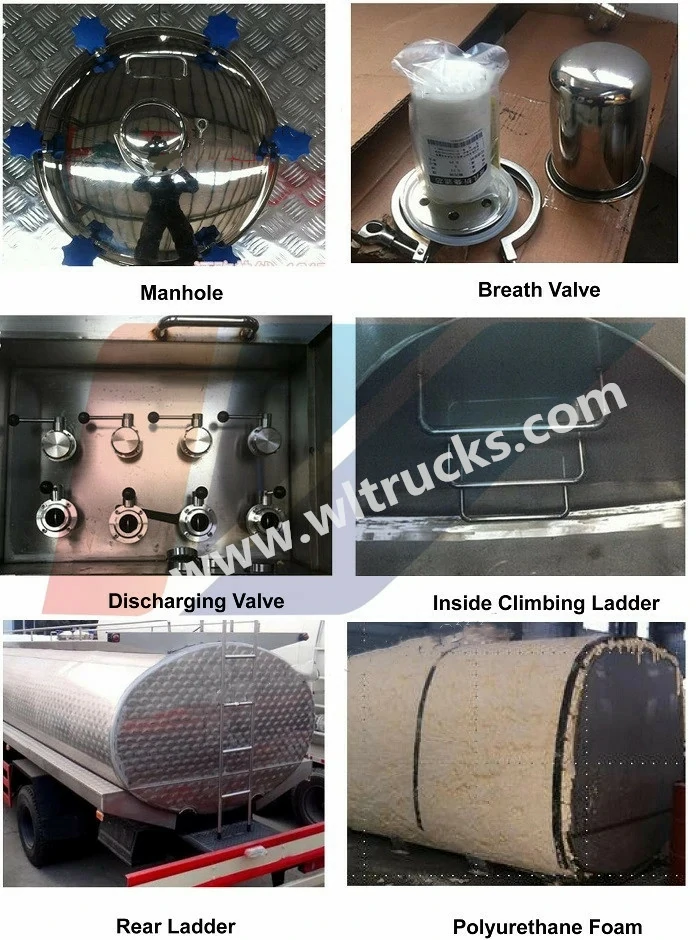 Milk transportation truck technical training support:
---

Tools and instructions:
---
Free parts for 12 months.
Supply of original parts.
DHL serves 7 days worldwide.
Small milk truck Factory Advantage:
---
19 years of design and export experience.
100% customized trucks.
Quick delivery guarantee.
Mini milk truck Documents:
---
Serving more than 80 countries and regions.
Professional guidance on import documents.
CO, FORM E, FORM P, pre-implantation inspection
Isuzu milk tank truck shipping:
---
Maximize your shipping costs.
Professional guidance on import documents.
Safe, fast and timely
Milk truck bulk order case:
---
Fast shipping to all parts of the world.
The truck color and logo can be customized.